Diagnostic Mobile X-Ray Services At Your Location
St. Michael's Mobile X-Ray the first with the vision to start Mobile X-Ray services in Edmonton back in 1997. We saw the need in our community for those with various roadblocks and mobility issues. We knew our service would alleviate the high cost and burden of ambulance transportation and long waits in emergency rooms, if we were to come to you. Inquire Today
We are the pioneers and St. Michael's Mobile X-Ray was born.
We provide complete diagnostic imaging services to residents in Long Term Care, Supportive Living, Assisted Living and Private Pay clients. Services are provided in the patient's/clients room/home, providing convenience, reducing anxiety, possible trauma and emergency room transportation.
Our Technologists are friendly, licensed, and in good standing with the Alberta College of Medical Diagnostic and Therapeutic Technologists.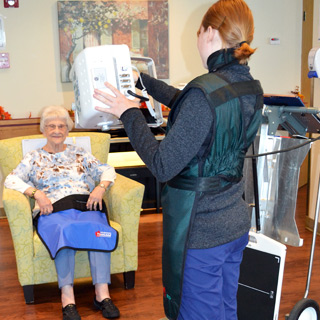 For our corporate clients we partner with them during their occupational testing protocols for the safety and standards of their industries. Setting up Image days for their workforce performing diagnostic screening to ensure good health and practice to their employers.
If you have any questions or comments you'd like to share about our service, please let us know. We look forward to hearing from you soon.
Thank you for supporting senior care and our community! All proceeds generated from St. Michael's Mobile X-Ray help fund quality of life programs and services for those who call St. Michael's Long Term Care Centre home.
Book An X-Ray Appointment Today
Mon-Sat 8am to 4:15pm
Closed Sundays
Fax: 780-472-4799 6 Days/week
x-ray@smhg.ca
Sign Up For Our Newsletter
Join our eCommunity for our free publications and updates.
All Rights Reserved. 2023 SMHG
Registered Charitable #108032483RR0001