St. Michael's Health Group is in urgent need of a volunteer bus driver to assist with taking our residents for outings. If you have previous driving experience (i.e. truck, bus, public transportation vehicle), have/had a Class 4 licence, and would like to do some volunteering while maintaining your driving credentials, we have an opportunity for you!
The Bus:
can accommodate up to 23 passengers (less if passengers are in wheelchairs)
has an electronic ramp to facilitate wheelchair loading
automatic, easy to drive and handle
Michael's ensures maintenance of this vehicle at all times
Driver's License:
Michael's would be willing to subsidise the cost of your Class 4 licence
Outings:
Driver would be accompanied by St. Michael's staff for all outings
Outings include various destinations, all of which are accessible by a bus (i.e. shopping malls, recreation centres, etc.)
Driver would be included in admission and could participate with the group if he/she wishes
Michael's is located at 7404 139 Avenue in Edmonton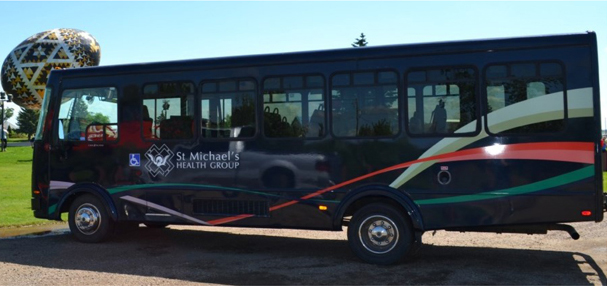 This is a great opportunity for anyone who likes to drive and wants to make a  difference in the lives of our seniors. If this is you, contact our Volunteer Coordinator at 780-472-4534 or email skadziela@smhg.ca  for further information.